About Freehub
Freehub is a system developed by the San Francisco Bike Kitchen and shared with other community bike shops to manage members and track patron visits.
In order to keep Freehub easy to use and understand we strive to keep it simple and focused.
Freehub is:
A database of members and the services they have access to
A sign in system for use at the front desk of the shop
A reporting tool for looking at shop use, membership status,...
Freehub is not:
A broadcast emailer - Freehub will not send emails to your members or patrons
An accounting tool - we do not track money in Freehub
An inventory tool - we do not track tools or parts in Freehub
An point of sale system - we do not track shop sales in Freehub
For more information please see the project wiki.
Sign Up
Sign up now to try this free service.
You are welcome to try Freehub for your organization. You can export your data at any time if you want to stop using Freehub.
Keep in mind that we are in a beta phase and can not guarantee availability or stability.
Quick Demo
This short movie demonstrates the basic features of Freehub.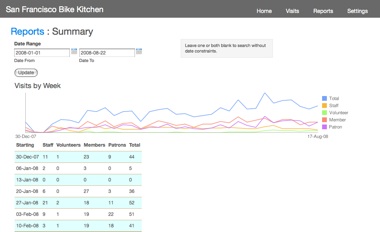 Log In
Organizations
These organization have signed up to use Freehub and are actively using it.